NEWS
"MOVIE FOCUS ON MINJERRIBAH"
Liina Flynn
Koori Mail | 1st November 2017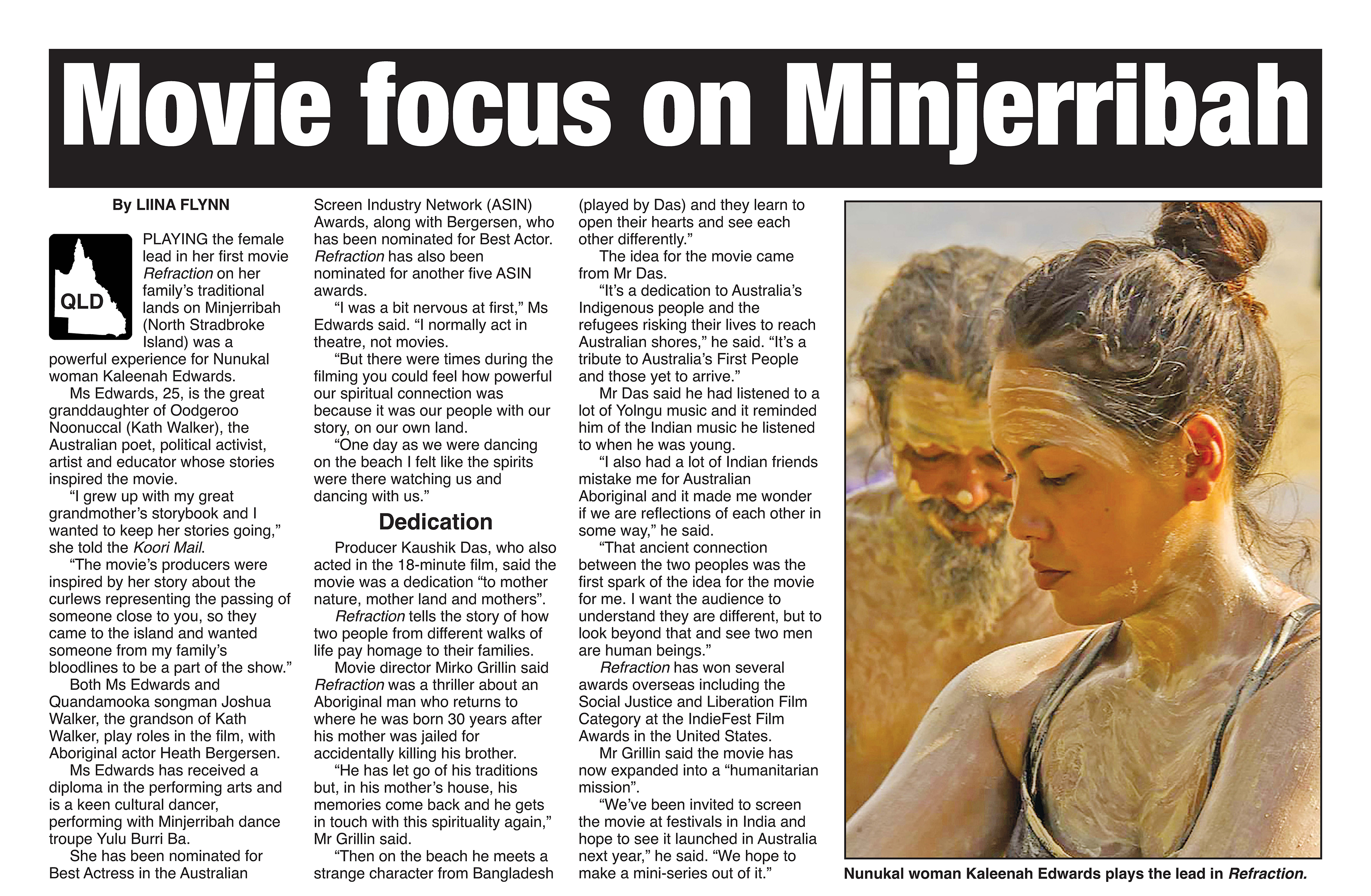 "GOLDFIELDS ACTOR STARS IN INDIE FILM FESTIVAL FAVOURITE"
 Andrew Murdoch 
The West Australian | 23rd October 2017
A Kalgoorlie-Boulder actor and musician plays the lead role in a new short film that is sweeping up recognition and accolades on the international film festival circuit.
Heath Bergersen plays the lead role in the new Australian short ReFraction, which has won the award of excellence for short film at the IndieFEST film awards and is an official selection in the world cinema category at the Delhi International Film Festival for 2017.
Click the link below to read more....
https://thewest.com.au/news/regional/goldfields-actor-stars-in-indie-film-festival-favourite-ng-b88633638z
"FILM HONOURING QUANDAMOOKA WINS SEVEN AWARDS"
Redland City Bulletin | 17th October 2017
ReFraction, a film on Australian social justice and which pays homage to aboriginal culture via the Quandamooka people has won seven international awards.
The film involves various ethnic communities, including an Italian gypsy, a first-generation Indian-Australian, a Cambodian refugee and the Quandamooka community on North Stradbroke Island.
"When these communities come together to tell a human story regarding where we have all come from and our journey forwards in search of peace, you know you are in for something special,"  Producer Kaushik Das said.
Click the link below to read more....
http://www.redlandcitybulletin.com.au/story/4987907/film-honouring-quandamooka-wins-seven-awards/
by Caroline Russo | on September 15, 2017
"The short film ReFraction, produced and directed by Mirko Grillini, has won three special awards at the IndieFest in the US. The film deals with the plight of asylum seekers in Australia and the difficulty for indigenous peoples to belong both to their original and to the western culture."
Published on Tuesday, August 29, 2017 – 11:24
Access radio interview web page here or listen below.
by Caroline Russo | on February 18, 2017
"Actor and director Mirko Grillini has completed production of ReFraction, a short film that deals with controversial social issues concerning asylum seekers and Indigenous peoples' cultural identities. The short film, co-produced with an Indian production company, will be shown at international festivals before theatrical release."
Published on Wednesday, April 19, 2017 – 13:12
Access radio interview web page
here
or listen below.